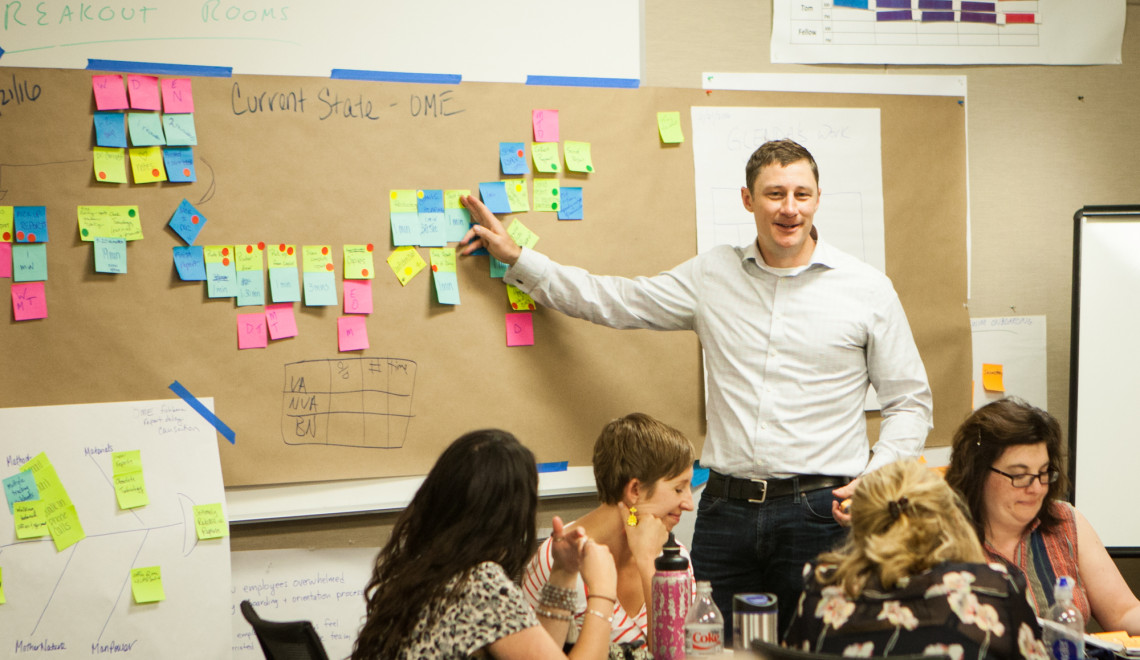 Story and Photos by Kelley Birschbach
A group of city government employees gather in room 4F2 at the Wellington E. Webb Building in downtown Denver after a lunch break. Apart from the hundreds of brightly colored sticky notes purposefully placed all around the room, it looks like a typical training of mid-level city employees.
And then in comes Brian Elms. His presence is felt on arrival. He's personal and passionate.
We introduced Elms and his unique division last month. He's the Director of Denver Peak Academy, a process improvement program created by Denver Mayor Michael B. Hancock back in 2012. The program trains city employees – from the lawn care specialist to the dog pound intake coordinator – to find and implement innovations that increase efficiency and cut costs.
Elms' energy fills the room as he eagerly invites his trainees to give presentations on the morning's activities.
The response is sedated.
"Awesome. I love the energy you guys have. It's really infectious," Elms says with a perfect combination of warmth and sarcasm. The trainees laugh as they get into their groups.
The city employees are wrapping up day two of a week-long "Black Belt" training, the more intensive of two trainings offered to any government employee interested bettering his or her respective department. On this Tuesday, eight unique city departments are represented and each participant hopes to be a ninja of innovation by Friday.
In the morning, Peak staff developed the trainees' critical eyes by sending teams off to departments that volunteered to be observed. Each team looked for wastes in time, energy, and money within their host departments' processes.
After organizing and analyzing their data for possible innovations, Elms has called them to stand and summarize their findings.
While Elms consistently maintains his playfulness, the training is anything but a formality. For him, changing the way government and the way its employees view their jobs is essential.
"I love watching people get excited about making change," Elms said after the training.
"Everyone is an innovator. Everyone is equipped to be great. You just have to bring it out in them and ask them to take responsibility for their process and their product."
This perspective is part of the Peak Academy model, which Elms and coauthor J.B. Wogan explain in their new book, Peak Performance. It gives an in-depth, and at times, brutally honest look at the Peak's early mistakes as well as how it innovated its way to become a nationally recognized success story.
The first presenters had visited the parks department that morning, where they found it takes eight weeks to get new seasonal employees a company t-shirt.
In front of blue, yellow, and pink sticky notes, a trademark visual of the Peak model, each trainee takes a turn describing an aspect of the t-shirt ordering process needing attention. They point to data that suggests it's a substantial issue and make basic predictions as to the kind of impact an innovation could have on the department's budget.
Elms' feedback is incredibly encouraging, but also gives a real critique. He holds trainees to his high expectations and narrows in on the little things, a major theme in the Peak Performance model.
"It's in the little things that we try to innovate. Little things make the big things possible," he explained later. "When 30 innovations take place on one area, big things become easier. But if you try to do the big thing first you will likely fail and then never try again."
All of this is lost, of course, if the training is just another training.
But these employees want to be here. They've asked for it. And it shows.
The presenters are engaged, laughing along with Elms, asking some difficult questions, and expressing their own frustration at government bureaucracy. There's an eagerness in the room to take responsibility for improving Denver's government.
By the following week, when the training is done and they're back to the everyday, all that engagement will be tested.
A member of Elms' team will be assigned to each trainee for the next year to support their ideas, but it's up to the employee to take what they learned and make something happen. Elms suggests they not ask permission from supervisors nor send proposals, but simply start innovating. This can create friction, he says, but so far it's been wildly successful.
Based on previous graduates, the trainees will bring back an average innovation valued around $6,000 in savings to the city.
Add them all up together and Peak Academy graduates have made nearly $15 million in cost-cutting innovations for the city.
Follow more successes made by Peak Academy Black Belt graduates by visiting the Peak's blog and YouTube channel.
You can also purchase Elms' book Peak Performance here on Governing.com.
Congratulations to our 51st Black Belt Cohort!! Go do great things! #InnovateElevateRepeat #Innovation #BlackBelt pic.twitter.com/8bEkIcoWos

— Denver Peak Academy (@DENPeakAcademy) June 24, 2016