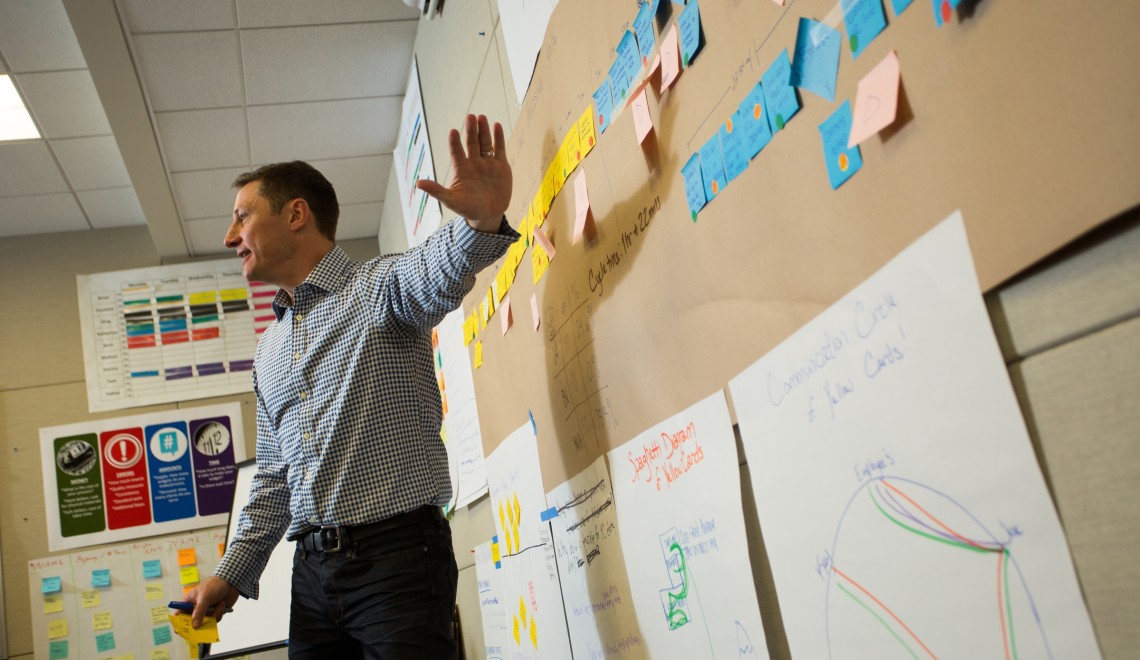 By Kelley Birschbach
Here at Innovators Peak, we love startups. It's kind of our thing. We love it when they believe in their employees and make an effort to build an environment that supports their creativity rather than demands artless reproduction.
In Denver, this is happening all the time.
"We're pioneers," says Brian Elms, Director of the Peak Academy, a startup of sorts, but I'll get back to them.
He's right, though. Denver, you're not satisfied with the status-quo.
But the government? That's a different ballgame. Creativity, energy, passion… those all get sucked dry in government offices, right?
Take the Department of Excises and Licenses (EXL), for example. It's basically the DMV for getting a food, liquor or marijuana license. Twenty-four thousand people crawl through this department every year.
Wait times for the office used to be more than three hours. Three HOURS (imagine that with the delivery of Lewis Black). It got so bad they bought a frozen yogurt machine to keep people cheery during their wait. While that was sweet, both customers and employees remained salty.
Enter the Denver Peak Academy
---
---
The Peak Academy is a process improvement program created in 2012 by Mayor Michael B. Hancock and run by Elms.
At the time, the city was still struggling to get out of the recession and needed its employees to find ways to cut costs. They needed those license techs at the EXL, the lawn care pros at the Parks Department, DPD police officers, really every employee in the city, to become innovators.
So they created a curriculum based on the best process improvement research and a very Denver-esque premise that every single one of the city's 13,000 employees were capable of innovation and invited employees to come for training.
"The effort was to really meet city employees where they were and build their capacity," says Elms.
"The whole purpose is to engage the employees, which are our number one asset in the city."
He explains, "Sixty-some-odd percent of the city's budget goes to employees. So if you invest in your number one asset, you get an ROI."
The hope being that the return on investment would be more engaged, efficient and effective employees, saving time and money for the city and its citizens. Rather than typical bureaucracy, you'd have a culture of innovation a bit more like Silicon Valley.
But just like the best startups, success wouldn't be measured by the kindness in the office, but by the results.
"I don't want people to think we're a culture program," Elms insists.
"Culture programs 'empower' people. We're a process improvement program. We're an innovation program. We're a leadership program. 'Empowerment' programs make me nervous. If someone feels empowered as a result of our class, that's awesome," Elms says, brushing the notion aside.
He continues, "If they do something after taking our class, that's amazing. So you can be empowered all day long and not do anything."
What they're ending up with is both the results and the culture.
Thousands of Innovations, Millions of Dollars Saved
---
---
When the line at the EXL reached an eight-hour wait for citizens one day, the results of a frozen yogurt machine would only be brain freezes. It was time for a change.
EXL employees began working with the Peak Academy. Each employee was responsible for coming up with ideas that could save time or money. But the concept wasn't about developing some grand idea that would revolutionize governments around the world. It was simply finding ways to enable these EXL employees in this office to be more effective.
"How do you take small things and add them all up instead of this big breakthrough $40 million innovation?" Elms asks, trying to help me understand his mindset.
"How do you do one innovation here, one innovation here, one innovation here that can really change how the organization works?"
So they started putting the innovations together. Small inexpensive printers at each employee's desk, putting document packets together ahead of time, making everything more concise and available online.
Nothing groundbreaking, but that wasn't the point. The point was to get results.
"We went from a three-hour wait time in [EXL] to about a 15-minute wait time," Elms says with a hint of relief.
And the department itself saved $85,000 through all of its simple innovations and estimates that it will save $250,000 in citizens' time.
And the culture?
"What you see with a department like this is the way they handle their customer has completely changed," Elms says.
"They still have normal bureaucratic things that they go through, but they're more excited to be there because the lines aren't crazy and people aren't yelling." Revolutionary.
Other departments have seen similar results:
The DMV wait time is down to 15 minutes.

Engagement in the IT Department has doubled the city average with small changes to the office –

including a ping pong table

.

The Public Works Transportation and Mobility bike team saved thousands of taxpayer dollars through changes to how they maintain Denver's bike lanes.
In the four years since its inception, the Peak Academy has supported regular everyday government employees as they make more than 2,000 innovations with a savings to the city and citizens of close to $15 million.
Results.
"Peak has exceeded all expectations, being recognized nationwide for taking an employee-led approach to delivering the highest quality services at the lowest possible cost." – Mayor Michael B. Hancock, State of City Report 2014
Elms says 200 cities, municipalities and organizations have come to the Peak Academy trying to learn from its success. So now he's bringing it to them.
Peak Performance: How Denver's Peak Academy is Saving Millions of Dollars, Boosting Morale and Just Maybe Changing the World
Don't misunderstand. Peak Academy's success came through a lot of trying different things, some blunders in the beginning and numerous innovations on its own part.
"We were really struggling and made a lot of mistakes," Elms admits. "[Governments] have to stop making them. I wanted to get this information out so that others can stop making those same mistakes."
Elms wrote Peak Performance, a book telling the stories of the Peak Academy's early ups and downs. It entertains as it guides you toward changing the typical government workplace culture through one small innovation at a time.
Peak Performance is set for full roll-out July 1 and can be preordered here on Governing.com.
For more stories of innovation brought to you by Peak Academy and Denver city departments, check out the Peak's blog or YouTube channel.