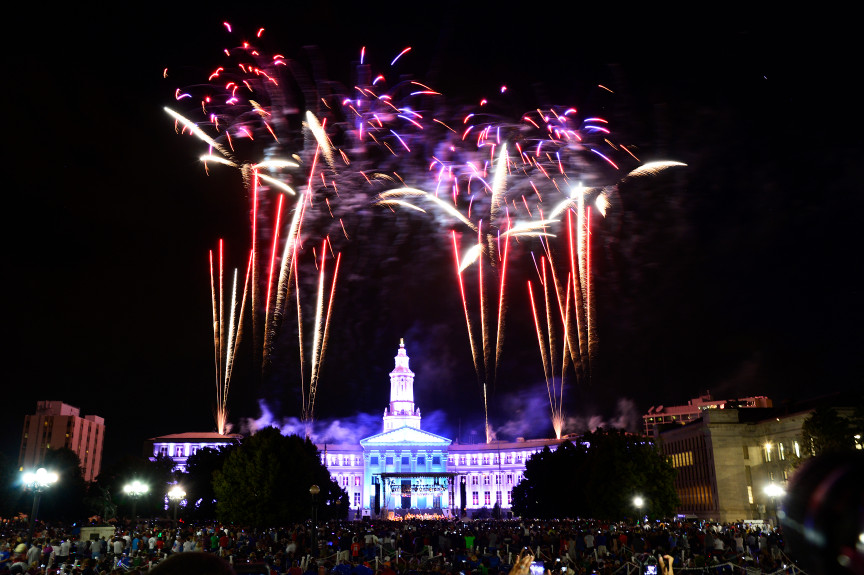 By Veronica Penney
The Fourth of July weekend is nearly upon us, bringing with it the prospect of barbecues, beers, and (hopefully) a well-deserved long weekend. If you're looking for some events to fill your time off from, the Mile High City has plenty to offer. From Independence Day celebrations and fireworks shows to festivals and concerts, these are some of the Fourth of July events you won't want to miss.
Friday, July 1
Glendale Fireworks Show
If you're around Glendale next Friday afternoon, the Glendale Fireworks Show is one that you won't want to miss. The fireworks are launched off of the 600 block of South Clermont Street in Creekside Park, so many spectators stake out spots along Exposition Drive. Get there early—people start arriving as early as 3 p.m. to snag a good spot.
Four Mile Historic Park's Old Fashioned July 4 Celebration
The Old Fashioned 4th of July Celebration at Four Mile Historic Park in Glendale runs from 5-10 p.m. The event will feature old-fashioned games, horse-drawn wagon rides, live music, and of course, historic demonstrations. Admission is free and beer and food are available to purchase.
Cherry Creek Arts Festival, July 1-4
The Cherry Creek Arts Festival is a free festival in the Cherry Creek North Shopping District. It runs all weekend and features visual arts and performances. Food samplings are available for purchase along the festival's Culinary Avenue, whose vendors are selected through a jury process. Friday night is an artists-preview night, and the main festival runs 10 a.m.-8 p.m. Saturday through Monday, with concerts from 8-10 p.m. on Saturday and Sunday night.
Saturday, July 2
Declaration Brewing Co BEER RUN!
The Declaration Brewing Company BEER RUN! is part of the Colorado Brewery Running Series. Registration is $30 and participants are free to run, jog, or walk the approximately 5-kilometer course through the surrounding Platt Park neighborhood. The registration fee includes a pint glass, one free beer, and event swag, but bring cash for the food trucks, merchandise, and beer available for purchase after the run.
Sunday, July 3
Independence Eve Fireworks at Civic Center Conservancy
Back for its seventh year, Independence Eve will feature live music by Chris Daniels and the Kings and the 101st Army Band out of Buckley Airforce Base. Attendees are encouraged to bring their own low lawn chairs and blankets, and to arrive early to stake out a prime viewing spot for the fireworks. Head to the Independence Eve website for more info on transportation and parking.
City Park Jazz feat. Ritmo Jazz Latino
The City Park Jazz concert series hosts free jazz performances on Sundays throughout the summer. On July 3rd, Ritmo Jazz Latino will take the stage at City Park from 6-8 p.m. The seven-member ensemble specializes in Latin and jazz music, infused with exotic styles, rhythms, and musical influences.
Monday, July 4
Fireworks at Elitch Gardens
Spend the day exploring the rides and water park at Elitch Gardens, then stay for the fireworks display. The show will start at 10 p.m., which leaves time to make the short trip to downtown Denver to continue celebrating.
Boulder's Ralphie's Independence Day Blast
Each year, the University of Colorado hosts Ralphie's Independence Day Blast on Folsom Field. Gates open at 8 p.m. for this free event, though donations to offset the costs of the event are encouraged. Live entertainment starts at 8:30 p.m. and the fireworks go off at nightfall. The City of Boulder has teamed up with CU for this event, so free HOP and Buff buses to the downtown and 29th Street parking garages will run from 9-10 p.m.
Liberty Run 
The Liberty Run is a four-mile run/ walk through Washington Park. Dust off your finest red, white, and blue costumes, as prizes are awarded to the best patriotic outfits for kids and adults. The four-mile race starts at 8:30 a.m., with a kids' run kicking off at 10 a.m. If you're feeling quick, there's also some prize money in it for the top three males and females—$300 for the winners, $150 for second place, and $50 for coming in third.