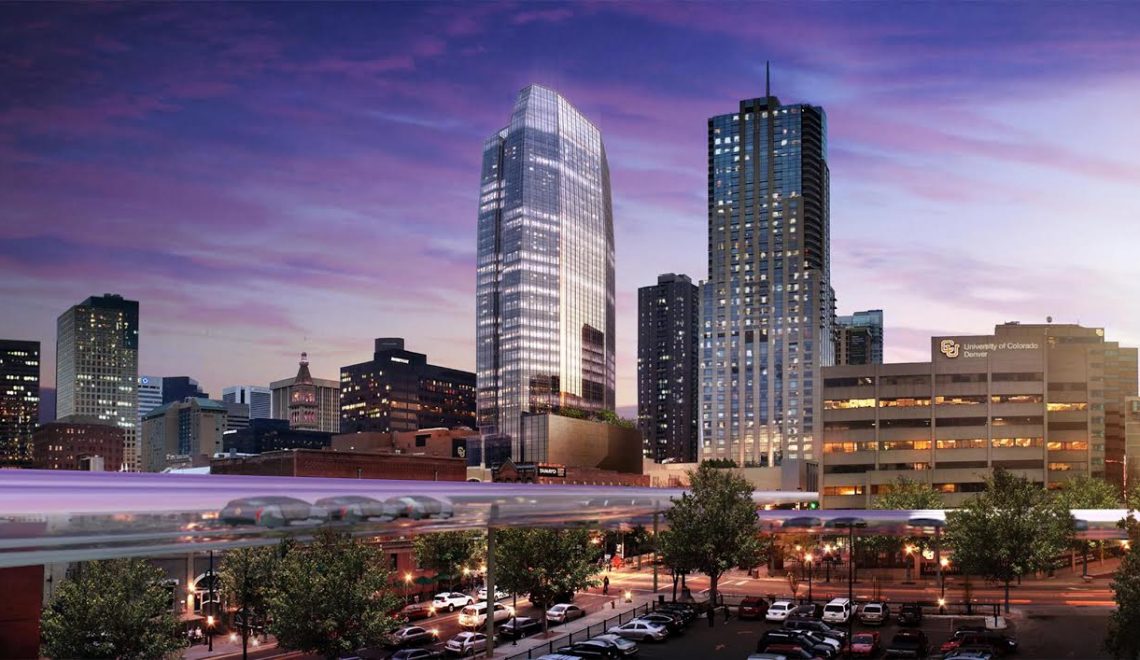 By Veronica Penney
In 2013, Elon Musk published a white paper outlining a new mode of transportation for passengers and cargo: the hyperloop. He explained the concept as a "cross between a Concorde and a railgun and an air hockey table" and invited anyone interested to take the idea and run with it. Five years later, two companies have proposed hyperloop-inspired transit routes in Colorado that could be operating in the next two years.
In September 2017, Hyperloop One announced Denver as one of ten winners of the Hyperloop One Global Challenge to "identify the strongest new Hyperloop routes in the world." The 360-mile Rocky Mountain Route would connect Cheyenne, Denver, and Pueblo with passenger transport capsules that hit speeds of up to 670 mph. The three-hour drive by car (without traffic) would be trimmed to mere minutes.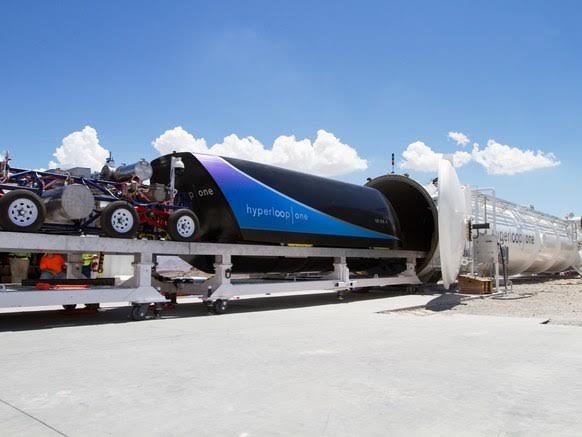 Hyperloop One's DevLoop test track in Nevada. (credit: Alexander Esseveld)
Just two months later, the Colorado Department of Transportation (CDOT) announced a partnership with Arrivo, a Los Angeles-based company focused on magnetic levitation (maglev) transportation technology. Arrivo plans to build a test track that follows the current E-470 toll road and add 200 employees to their new test facility in Aurora by 2020.
Both companies are planning to build the first hyperloop-style routes in Colorado, but that's where the similarities end. Arrivo's network builds off the same two-magnet maglev chassis as high-speed bullet trains, where one magnet lifts the train off the track (levitation), while the other magnet repels the train to speed it forward. Using existing technology means less research and development will be involved in creating Arrivo's debut Denver route.
Arrivo's proposed Denver routes (credit: Arrivo)
Hyperloop One's vision is more ambitious and involves a system of enclosed, low-pressure tubes that transport goods and passengers via shuttles from one end to the other, combined with maglev technology. The low-pressure system is designed to minimize friction and drag, enabling shuttles to reach airplane-like speeds. The network would either be elevated on columns or dug underground to avoid hazards and eliminate abrupt grade changes in the track.
While Arrivo's end goal is to lighten the load on Colorado's regional transportation networks, Hyperloop One aims to pioneer the highest-speed ground transportation network in existence, which is a better solution for long-distance commutes.
For example, an Arrivo City Zipper vehicle could shorten the 65-minute evening commute from downtown Denver to Boulder to just eight minutes and replace the 80-minute trek from downtown to Lone Tree to a zippy six-minute ride.
Arrivo's network will also be designed to accommodate individual passengers, cars, and even semis, which can drive right onto a platform-like Arrivo vehicle to be shipped down the line. This could lighten the number of cars and semis on Denver's roads, as well as offer an attractive, high-speed option for daily commuters.

Renderings of Arrivo's vehicles, which are designed to accommodate passengers, cargo, and freight vehicles. (credit: Arrivo)
"Arrivo's system is an additional layer of transportation designed to complement existing modes of transportation, connect with the airport, the metro, and even allow people to use it with their own car," explains Brogan BamBrogan, Co-Founder of Arrivo.
Hyperloop One's vision promises a revolutionary type of ground transportation, but critics argue that at the proposed speeds, even a small error in the near-vacuum system would force the network to shut down entirely—or worse. With this in mind, Hyperloop One is in the midst of a full testing phase in the Nevada desert, where the company has built a 1/3 mile-long test track called the "DevLoop."
Initial tests are promising, and the DevLoop test pods have been able to reach speeds up to 240 mph—impressive, considering the length of the track. For now, Hyperloop One plans to offer just one style of pod, which will accommodate either cargo or passengers.
Eager passengers looking for an alternative to Colorado's increasingly congested roadways will have to wait a bit longer before hopping on a hyperloop. Arrivo isn't slated to offer its services to commuters until 2020 and Hyperloop One plans to open its first track to the public a year later in 2021.
Lead image courtesy of Arrivo