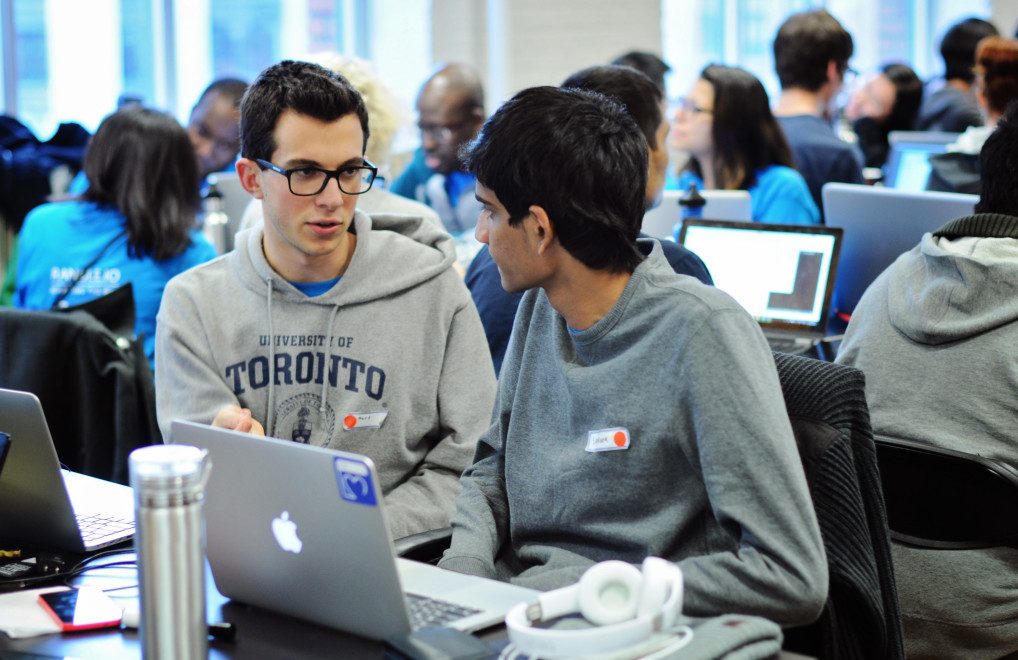 By Laura Pochodylo
For many communities, the end of summer, marked by Labor Day, opens a new beginning: the start of a school year. Each year is different for students moving up through grades, but each new school year also presents new challenges for educators. For educators, the year often starts behind the mark in access to technology, fair wages, and class sizes.
Teachers are long envied by non-educators for their summers "off," but come Labor Day, many who are returning to the classroom are leaving their summer jobs—anything from teaching summer school, working at a camp, or other seasonal work. This is a byproduct of a fact that the Washington Post has reported on: teachers make 17 percent less than comparable college-educated professionals on a weekly basis. According to the National Education Association, that's an average salary of $57,420.
While class sizes and the demand for students who can compete in a global market keep growing, teachers are turning to each other for support. In a world where nearly any answer imaginable is just a web search or voice query away, teachers constantly search for ways to help each other integrate technology in a meaningful way in their classrooms, despite barriers to access and quality.
Attended my Smart Board training. Can't wait to implement this new technology into my classroom! I see lots of collaboration potential. pic.twitter.com/uWicwCtr5l

— Jan Marie Foscante (@Mrs_5thGrade) August 24, 2017
Educational technology belongs at school and at home
Making technology available and affordable enhances the 21st century educational experience. While there's something to be said for putting pen to paper, a hesitance to embrace the internet and its many educational possibilities is a disservice to both teachers and students. Investments in technology are investments in our children's educational futures by making classrooms more suitable and accessible to our changing world.
#InternetEssentials has helped 4 million Americans bridge the #digitaldivide, and we're just getting started. https://t.co/ZKZkaElU2o

— Comcast (@comcast) August 15, 2017
It is said that learning begins at home, and if learning is now highly reliant on technology and digital formats, it is essential that learners have access to high speed internet both at school and at home to maximize their learning opportunities.
Of course, not every family has the same level of digital accessibility at home. Programs like Comcast's Internet Essentials provide the opportunity for affordable internet to eligible households, supporting education at all levels. Families, senior citizens, some community college students, and households receiving federal housing aid are among those eligible for the program. The service brings in-home internet and WiFi without a credit check, installation fee, or requirement for a term contract. They also offer the option to purchase a low-cost computer, as well as free access to XFINITY WiFi hotspots.
While many take internet access for granted, Internet Essentials is set to connect more than one million Americans to the internet in their home for the first time. Affordable access at this price revolutionizes the role that technology can play in learning, both for those in school, as well as lifelong learners. Having that positive learning presence at home enhances the learning experience in the classroom by making homework, research, and learning new skills easier.
. @comcast's Internet Essentials now provides more than 4 million low-income Americans w/ high-speed internet https://t.co/agQCNKoSr7 pic.twitter.com/3LTy3ESAhr

— Comcast Newsmakers (@ComcastNewsmkrs) September 5, 2017
"Comcast's Internet Essentials program has now connected four million people, in one million households, to the Internet at home, most of them for the first time in their lives," says Karima Zedan, Executive Director of Internet Essentials. "What's more, we continue to see strength in the program's momentum, with the first six months of 2017 seeing more new connections than any other six-month period in our history."
With online learning becoming increasingly common, the classroom is no longer limited to four walls within a school building. Learning should not stop when entering or leaving a physical classroom, which is one of the true benefits of having a tech-focused learning environment. However, this concept presents challenges in communities where free WiFi access is hard to come across.
.@AdamariLopez speaks from the heart about closing the digital divide with @Comcast #InternetEssentials pic.twitter.com/QrBatgVcYw

— Charlie Douglas (@CGDouglas) August 17, 2017
Zedan also knows the importance of bringing digital access to people wherever they go.
"The cruel irony of the digital divide is that the more broadband technology advances, the further behind it leaves people without home broadband connections — who happen to be the very people who would most benefit from the equalizing potential of the Internet," she says. "Crossing the digital divide is a life-changing transformation — conversely, being on the wrong side of that divide means being left on the sidelines of a 21st century global economy."
Through XFINITY public WiFi hotspots, Comcast is increasing access to the internet in locations beyond school and home to support students wherever they are. More than eight million reliable and fast hotspots nationwide are accessed with a Comcast ID and password at no extra cost to Comcast subscribers. There is even an app to locate nearby hotspots and manage a list of your favorite hotspots to keep connected.
What's the next big thing?
Many millennials, who have seen burgeoning educational technology explode into necessary learning tools, recall the introduction of Smart Boards to classrooms. Now a standard feature in many classrooms, interactive technology like the Smart Board proved that simply digitizing a textbook didn't qualify as game-changing technology in the classroom. Integrating technology into learning requires thinking outside of the box to identify how technology can meet the needs of a student while transforming the way that they access information.
At North Elementary with Mrs. Gina Bellamy who controls her smart board from across the room to be next to her students while she teaches. pic.twitter.com/kblk5WaAPQ

— Iron County Schools (@Iron_Schools) August 29, 2017
Now fairly standard, Smart Boards didn't fully take off until the mid to late-2000s, and even into the 2010s, despite the company, SMART Technologies, starting in 1991. This gap of accessibility and tech development can cause teachers and students alike to wonder: what's the next big thing that we haven't even thought of yet? It's hard for many educators to imagine a classroom without a Smart Board now.
What will be indispensable to learning in the future, and who is making it now? And how does that technology get into all classrooms — not just the ones who can afford it? These questions are on the mind of many educators as they return from Labor Day to their classrooms.
Lots of learning and laughs about SMART Board tech in @APSLanguages classrooms! #APSFoM pic.twitter.com/SrDOkmw7zC

— APS FOM (@APSFOM) August 22, 2017
Whether it is in makerspaces, community education, or dedicated tech learning environments like Skill Distillery, there are many ways innovative learning is happening across the Southwest and the rest of the country. Educational technology — be it subject-specific applications, ways to integrate software into the learning process, or even taking learning fully online — is the next frontier for students and their teachers.