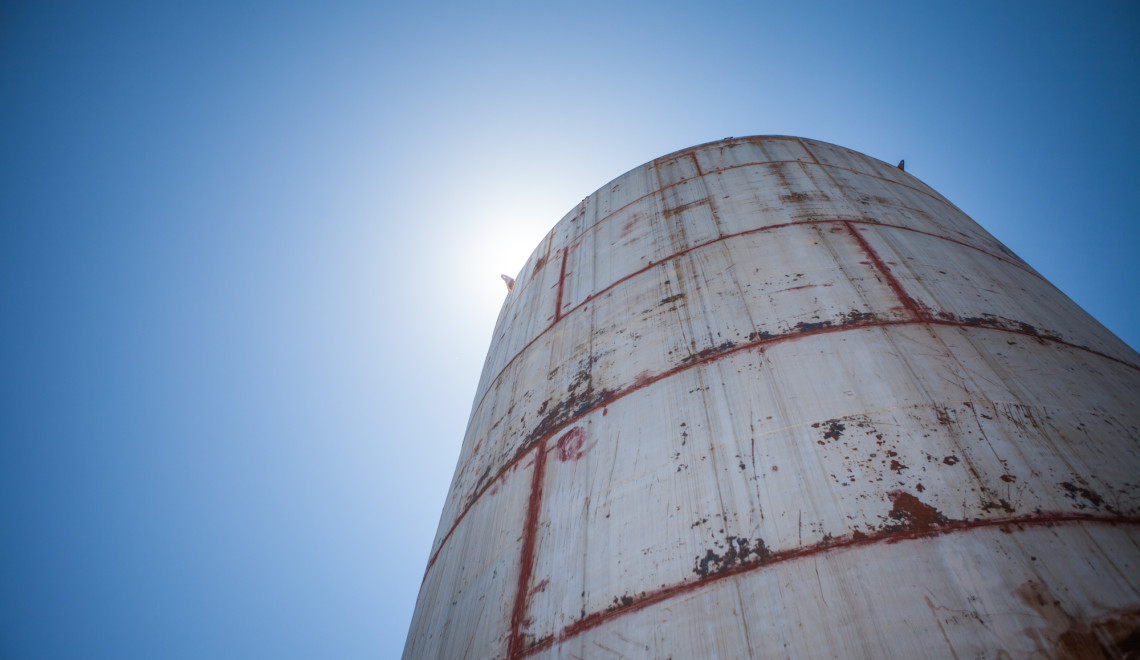 Story and photos by Kelley Birschbach
Have you ever been to Rangely, Colorado? Me neither.
At least, not if you had asked me a month ago.
But recently a buddy of mine with an affinity for small town charm and hidden gems showed me a story about an old abandoned water tank turned concert venue in Rangely. Just 20 minutes east of the Utah border, this high-desert, one stoplight town is like most country stops on a big-city boy's radar – a blip.
But the tank, as it's called, was enticing.
History of the Tank
It was assembled in the 1960s to be used for a nearby power plant, but the plant went under and the tank was never filled. Left discarded and collecting graffiti, it sat for years.
Then a musician of the hippie spiritualist genre – I just made that up – Bruce Odland, came across it while wandering Colorado in the mid '70s. Hitchhiking, as hippies did back then, Odland was searching for unique opportunities to record his music. Two locals led him to a tiny two-foot opening in the side of a 60-foot abandoned water tank, promising the end of his search was found in the pitch-blackness inside.
The rest is history, as they say. He played and he fell in love.
Since then, Odland has brought musicians from across the country to sneak on the property and record the kind of sound no other venue offers.
More recently, he completed two crowdfunding campaigns to purchase and open the musical marvel to the public. Now officially a 501(c)3, the Tank Center for Sonic Arts invites tourists like my friend and me for free shows every Saturday.
Our Full Dive Into the Tank
I've always been drawn to deep melodic sounds that seem to reverberate within the soul, calling to a longing unknown with lyrics beyond words. And since my friend's adventures don't disappoint, we set a date and made the drive.
We left before the sun's shape crept above the horizon, but it's golden hue already made for great light against the mountains as we headed west.
You stay on I70 past Glenwood Springs to Rifle, traversing through Glenwood Canyon and enjoying the scenery along the Colorado River, before heading north toward Rangely. It's a hike, for sure, but good company, hearty road trip snacks, and a beautiful Colorado make the five-hour drive doable for a day trip.
Pulling up to the Tank, it's just as unassuming as you would think. Graffiti still colors the sides, brown streaks of rust run down from the cracks. There is no backdrop of red rocks. It's just a decrepit water tank.
Samantha Wade and a couple other women greeted us with warmth. They help manage it on Saturdays.
Wade grew up across the street and has been coming to the tank since she was eight years old, gaining the nickname "The Voice of the Tank" for her consistent musical presence there.
We were instructed to take off our shoes, sign the guestbook, and there was a donations box, but no pressure from the ladies to contribute. The energy was cheery and welcoming. Each of the women seemed to have a personal affection for the tank and gladly offered up their Saturdays to be there.
We didn't have to crawl through the hole like Odland did. A door was recently cut out thanks to the crowd-funding campaigns, but we did squeeze through it later anyway, just to get the real feel.
Upon entry, the tank's empty space feels vast. Part of this is from the vacuum of sound, no doubt. Every bare footstep slaps against the concrete floor and rebounds across and above and below and above again. It's not an echo, though. It's a vibration, a resonance.
Immediately, my friend and I smiled at each other in awe. We tried to talk but could not decipher but the first word. After that the syllables got muffled as they all mingled together against the walls, forcing us to be quiet and simply listen.
The Voice of the Tank, Wade, gave us a moment to explore, and then began in her melodies. My friend sat when she started, but before long, her song moved him flat on his back, closing his eyes and opening his ears. I joined.
The sound overtakes you. Certainly, Wade's talent has something to do with it, but the tank's acoustics make her single like that of a choir rather than a soloist. It's overwhelming but in a gentle way, forcing you to settle into yourself and remove the clutter of life's to-dos.
It's like a yoga cool-down meditation, but instant and with less of a struggle.
My all too stiff shoulders relaxed against the concrete and Wade continued, the other women harmonizing with her. We stayed like that only for moments, but the experience was full and our spirits were calmed. It was unlike any live performance I'd ever witnessed.
I only have positive things to say about my experience in Rangely and there's more I could tell about the women, the tank, and the town, but my endorsement should be obvious at this point:
Make the trip. You need to experience it for yourself.
You can find out more about the Tank Center for Sonic Arts at tanksounds.org or follow them on Facebook and Twitter @tanksounds.