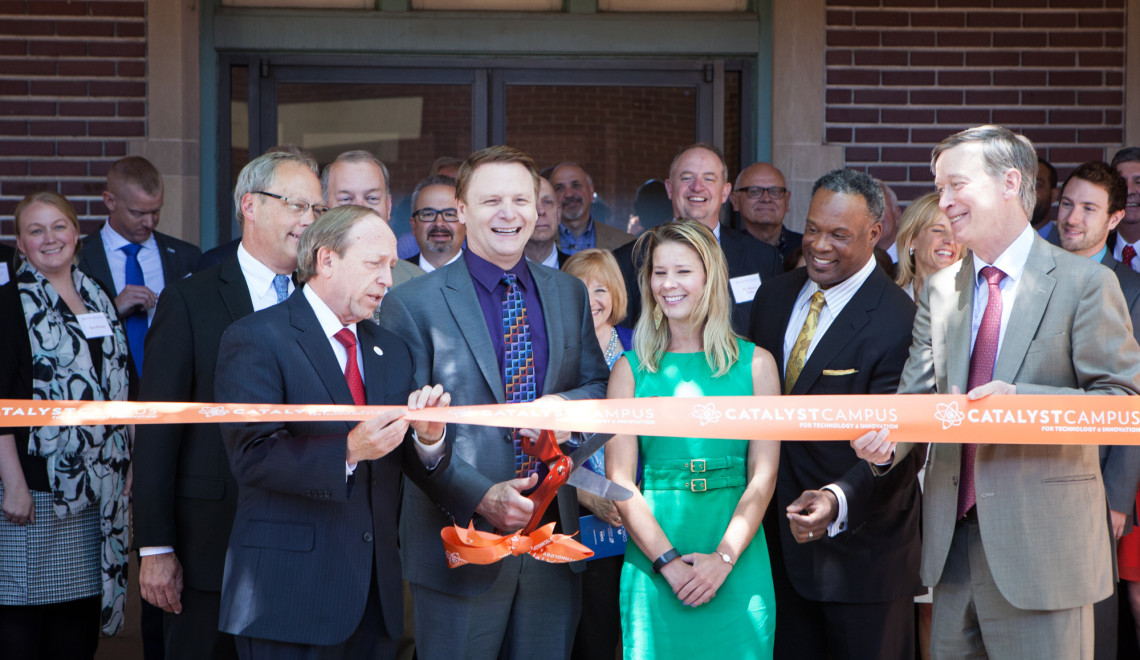 Story and Photography by Kelley Birschbach
"Let me just start with… Wow."
Rich Jennings, Senior Vice President, Mountain West Division, of Comcast paused for dramatic effect to invite the 100 or so gathered to truly take in the beautifully renovated old railroad depot in downtown Colorado Springs.
"The energy in this room is phenomenal," he continued.
Jennings endorsement came on Tuesday just minutes before the ribbon cutting ceremony celebrating the official grand opening of the Catalyst Campus, a collaborative ecosystem for aerospace and defense tech startups, which Jennings deemed "an innovation hub."
The site launched after 18 months of investment and development by the O'Neil Group Company and strategic partners like Comcast.
State Leaders Say Catalyst Campus is The Future
Governor John Hickenlooper was present, as well as Colorado Springs Mayor John Suthers, as both saw this effort as a groundbreaking opportunity for the Springs and Colorado itself to be established as a major player in technology.
"The Catalyst Campus, that Mayor Suthers and Kevin [O'Neil, CEO of the O'Neil Company] have imagined and now have very rapidly created," said the Governor, "is the kind of foundation, not just statewide, but it will be a national branding effort defining Colorado Springs as a place where things get accelerated."
Governor Hickenlooper reiterated that investment in technological innovation, business, and education were vital for Colorado with the industry being the future leader of the best kind of jobs.
Mayor Suthers proudly added the importance of this day in a long history of entrepreneurialism in his city.
"This is the future, this sort of innovation. Our future is going to be in cyber, high technology in a variety of areas. Kevin O'Neil and his group are at the forefront and we're very very lucky to have this kind of effort to be taking place here."
A Powerfully Equipped Campus
The four-building, eight-acre Catalyst Campus is impressive, even compared to the best coworking complexes.
"We'll have an entire ecosystem from breakfast to beers to join on this campus to create an environment where small companies can have credibility," Kevin O'Neil told reporters Tuesday after cutting the ribbon on his company's newest investment project.
But it doesn't stop there. O'Neil and his team are adding a space operations center – the only one in the world like it according to O'Neil – where satellites can be tested and controlled. They're also creating a development laboratory where startups will be able to conceptualize and try out their newest ideas.
Comcast also has installed the network infrastructure for gigabit speeds and a fiber-optic backbone that sophisticated tech companies rely on for transferring massive files and connecting across the world with video conferencing solutions.
It's the kind of workplace techies dream about.
Could Colorado become the Silicon Valley of Defense Tech?
Like the Governor, O'Neil said on Tuesday he thinks the Catalyst Campus will bring the best and brightest to Colorado.
"This will also be an innovation center that we believe at some level can rival Silicon Valley."
That's confident language, but campus company members who were on hand at the opening were excited about the prospects. Tim Haynie, President of Spectrabotics, believes it too.
"We're a tech startup company, we have to find unique talent that isn't necessarily home-grown anymore; it's acquired. So when you have a facility like this, that's appealing to people with the right skill sets."
Brandon Tripp from TMC Design Corporation said he's already heard people referring to Colorado Springs as "Silicon Mountain."
"The amount of time, energy, and money that's being invested in Colorado and Colorado Springs for future technologies is incredible… So I wouldn't be surprised if in five to 10 years down the road you do see a new Silicon Valley in 'Silicon Mountain.'"
If you'd like to know more about the Catalyst Campus, you can visit them at CatalystCampus.com or their company Facebook page. Otherwise, drop in at 555 E. Pikes Peak Ave., Colorado Springs, CO 80903 for a peak.