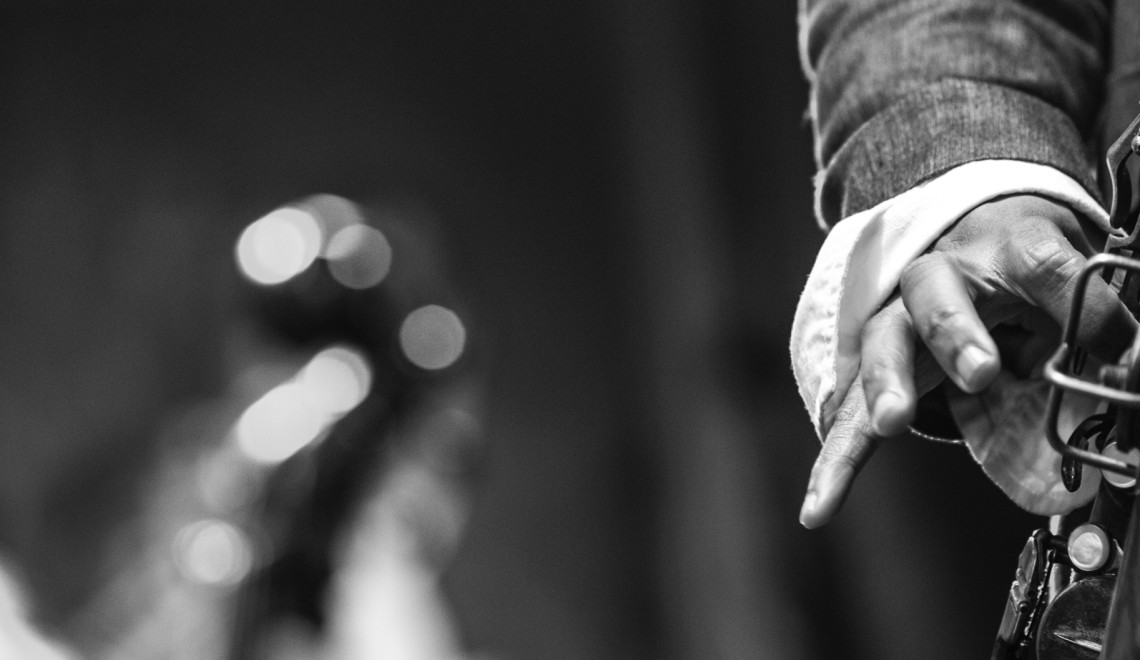 By Veronica Penney
Walking through Five Points, the Denver neighborhood looks like it could be an up-and-coming cross-section of any U.S. metropolis. Full of art studios, new restaurants, and hip coffee shops, the cultural scene resembles many other art districts.

Look more closely. You'll find the imprints of a rich history of jazz music, including world-class venues and legendary jazz musicians who have called Denver home.
Today's Five Points, and the rich history of jazz culture in the area, are inseparable from Colorado's black history. In the 1870s, black railroad workers established their families on 22nd Street, building a small community termed the "Deep South."
Over the following decades, more black residents moved to Five Points. By the time the Roaring Twenties hit full swing, over ninety percent of Denver's black population lived in Five Points—due in equal measures to politics and a strong sense of community.
The political climate in Colorado during the 1920s and 1930s played a large role in defining the evolution of Five Points, and in turn, Denver's jazz scene. The Klu Klux Klan was embedded in Colorado politics. Mayor Stapleton, a Klan member, vowed to work closely with the Klan and drove policies that supported segregation. Five Points, the heart of Denver's black community, was heavily segregated. Black residents could not live beyond the boundary of Downing Street.
Amidst these racial tensions and the stark political climate, jazz flourished in Denver's black community. Five Points produced legendary clubs like the Rossonian, the Casino Cabaret, Lotus Club, and Benny Hooper's ex-servicemen club.
Between the clubs and myriad jazz artists who called Five Points home, Denver was home to the biggest jazz scene between California and St. Louis. Louis Armstrong, Ella Fitzgerald, Nat King Cole, and Duke Ellington are but a few of the jazz legends who performed in Denver.  

However, segregation meant that legendary performers were not allowed to stay in the hotels and neighborhoods where they performed. Five Points residents opened their doors to touring musicians, offering places to stay.
"Celebrities were closer to the community because of the segregated condition in the United States," reminisces Harriet Butcher, the legendary jazz dancer, in an interview with RMPBS. "I met Langston Hughes at the YWCA."
Not only did jazz celebrities mingle with the Five Points community, but jazz music had a way of breaking down racial boundaries. The Rossonian was one of the few places in Denver where white and black people could rub shoulders.
"It brought white people into Five Points who'd never been there before," remembers Beatty B.C. Hobbs, jazz saxophonist. "All mixed up. No such thing as segregation."
"They mixed with us. They found out we didn't rub off. We were human, just like they were," explains Charlotte Cowens, a jazz pianist who performed in Denver during the height of the jazz movement.

Jazz music in Denver had a way of bringing everyone together, not just blacks and whites. The Al Rose Trio was the first integrated trio in Colorado—Al Rose was Jewish, Lee Arellano was Spanish, and Charles Burrell was black.
Fast forward to present day Denver and the jazz scene is still alive and well. Clubs like Nocturne, Jazz at Jack's, and El Chapultepec frequently feature jazz acts. Dazzle on Capitol Hill is listed as one of the "World's 100 Great Jazz Clubs" by DownBeat Magazine.
KUVO/KVJZ, an all-jazz public radio station, also calls Five Points home. The station, which celebrated its 30th anniversary last year, hosts the annual Live at the Vineyards show at Ballistreri Vineyards in north Denver. Live at the Vineyards pulls jazz stars to Denver each year, last year featuring five-time Grammy winner Diane Reeves.
Image: Chris Coble
Perhaps the most prominent jazz event in Denver is the Five Points Jazz Festival. Held the third weekend each May, the Five Points Jazz Festival draws a crowd of over 25,000 each year to watch more than 30 artists perform at venues across Five Points over the course of the weekend.
If you're looking for ways to honor Black history beyond February, consider diving into the local jazz scene. You won't be disappointed.