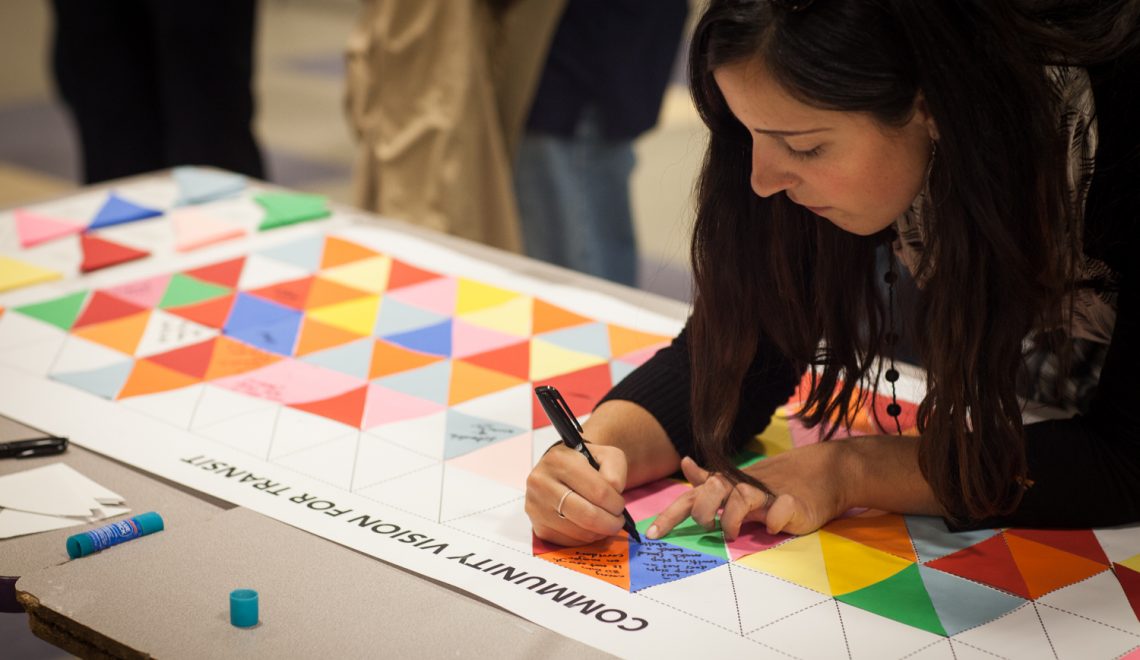 Story and photos by Kelley Birschbach
There's a good chance you love where you live in Denver. We're surrounded by a culture that is invigorated by its citizens' creative expression and state's natural beauty.
But, if you haven't noticed, the times are a changin'. Something around a bajillion people move here on the daily – it could be up to two bajillion now, I don't know. Luckily, these people are our new friends, our brightest coworkers, and maybe even the up-and-comer staring us in the mirror.
But all this change begs the question, what do we want our great city to look like in 20 years?
What do you want it to feel like taking a walk around the neighborhood in 2026? Are bike lanes important to you? Where are they needed? How close do you want a dog park to your home?
It's these types of questions that Denveright is asking you to answer.
Denveright – Four City Plans Converge to Create Vision for Denver's Next 20 Years
Back in May, Denver Mayor Michael B. Hancock created Denveright, a multi-agency planning initiative to reach out to Denver's citizens, new and old, to help shape four city plans in the areas of mobility, land use and transportation, and outdoor recreation.
Image: http://www.denvergov.org/denveright
Here's a quick overview of the plans:
With all of Denver's recent change and growth, it's the perfect time to establish a new vision to guide the city's future.
Denveright Wants It Done Right – With You at the Helm
City planning obviously isn't unique, and having a few public meetings isn't either, but the focus of Denveright's community engagement is not to simply inform the public, but asking for the public to be the ones informing the government.
Brad Buchanan, Executive Director of Denver's Community Planning and Development was emphatic at last week's first Denveright visioning workshop: "This isn't our plan. This isn't the Mayor's plan. This isn't my plan. This is your plan."
They're calling it "democracy" or something.
Anyway, this initiative is curbing the stereotype of uninspired city informational meetings with engaging market research where citizens' attitudes, neighborhood expertise, and input actually add to the qualitative and quantitative data the government is using to guide its next steps.
This initiative is also unique because of its multi-agency collaboration.
"Never before have we simultaneously, in an integrated fashion, looked at our land use, our mobility, our parks and recreation, our full transit system," Buchanan explained. "This is truly a historic moment for our city."
By working together, the city adds efficiency and cost-effectiveness to its citizen-first approach.
Visioning Workshops Get Community Engagement On Point
Denveright just finished up five visioning workshops across the city to let everyone in on the initiative and get some needed community feedback.
I can't say I'm a regular at these things, but the workshop I attended at North High School was by far the most impressive and engaging city-run meeting I've attended. Similar to some of Denver's other efforts, the whole thing feels more like a creative agency brainstorming session than a government gathering.
And the citizen's presence matters. I talked to a few of the consultants helping the city develop these plans and each described the methods as being data-driven, with community input helping to identify or validate trends.
Other citizens felt it, too.
Kathleen, a 32-year-old landscape architect, has worked with a lot of cities and appreciates this approach.
"This is definitely unique. I've had a lot of public clients that don't do any public engagement and don't take into account what community members might be interested in. So this type of effort and the amount of work they're putting into it… is really a great investment."
"Your Voice, Our Future" – How You Can Be Heard
In the next few months, Denveright will be doing other events to keep you informed on the progress and get your feedback. Keep an eye on their calendar, sign up for their newsletter, or follow them on twitter @Denveright to stay informed.
You can also take their quick 14 question map-based Denver Community Vision Survey right now (Closes 10/14!!!) or the Pedestrian and Trails Visioning and Mapping Survey to help Denver become more walkable!
If you don't participate, you might not get the dog park you've always wanted.
"More dog parks."
"Ditto."
"Anti-ditto."
Lots of voices tonight at workshop #5! #denveright #parksandrec https://t.co/ius48HQrOR

— Denveright (@denveright) October 6, 2016
… Or maybe the dog park you never wanted.