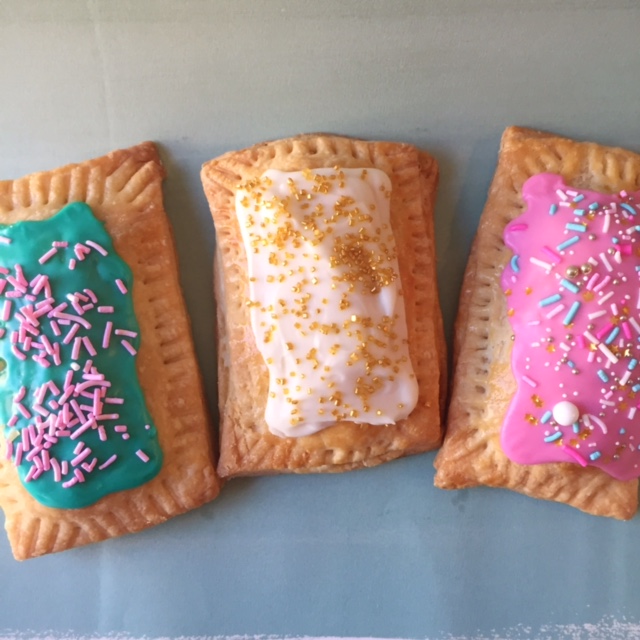 By Veronica Penney
If you think of pop tarts purely as the foil-wrapped, mass-produced treats of your childhood, it may be time to revisit your definition of the pastry.
Denver bakers Robbi Robinson and Abigail Wenk founded Whisk and Bean a little over a year ago and pop tarts quickly became the bakery's signature creation. They turn out a wealth of variations on the simple treat. Savory flavors include bacon, egg, and cheese, pepperoni pizza, and mushroom sausage bechamel, while those with more of a sweet tooth may seek out the Nutella or strawberry cream cheese flavors.
"Denver bakeries, they kind of section themselves out for what they're known for," explains Abigail. "People find their dish and they stick with it. For us, we do a lot of other things, but I think we'll really latch on to pop tarts because they're fun, they're single serve, and they're pretty. And delicious," add Robbi and Abigail in unison.
Robbi and Abigail both baked small orders of pastries for their friends and family before they met through a mutual friend. "We had been talking for a couple of years about how much of our dream it would be to do that on a larger scale and on a full-time basis," says Abigail, and those conversations led to the eventual creation of Whisk and Bean.
Whisk and Bean is perhaps the only Denver bakery without a storefront or food truck. Robbi and Abigail bake out of a commercial kitchen and offer customers the option of scheduling a delivery order to their office through Foodie.com or arrange to meet clients halfway to deliver their baked treats.
Working through social media and apps has allowed Whisk and Bean to build a fan following before investing in a retail location. "Our dream is definitely to do this full-time, so we're really planning on being able to open our own small storefront sometime in the next couple of years or so," says Abigail. "We are trying to make a name for ourselves in the Denver community right away, so that once we do have everything in place and can actually open our doors, we have a line already coming out of the door."
Pop-up events are another way that Robbi and Abigail have spread the word about Whisk and Bean. "We pair up with another local business in Denver that will be willing to host us and let us use their storefront so we can come in and have a little sale for a few hours, and our following can come find us," Abigail explains. "That has been a lot of fun and we get to build some great relationships with local businesses as well."
If you are looking to pick up some of Whisk and Bean's famed pop tarts, check the bakery's events page, Facebook, or Instagram to find dates and locations for the pop-up events that they have throughout the year.For those left wondering about secret ingredient in Whisk and Bean's delightful pastries, it's that they are indisputably baked with love.
"It's definitely a labor of love," says Abigail. "We both still actually work full-time Monday through Friday and do all of our Whisk and Bean stuff on breaks or in the evenings or on weekends, so that can mean that from six o'clock in the evening until two o'clock in the morning, we're in the kitchen. That's how we do it and we love it."