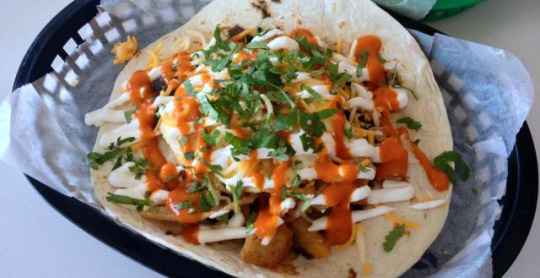 By Veronica Penney
On Feb. 2, Torchy's Tacos opened the doors of its Denver location and taco lovers across the city rejoiced.

The much-anticipated new restaurant, situated on 1085 N. Broadway Street, serves up the same street-style tacos that have made the chain a hit across its home state of Texas.
Founded in 2006, Torchy's Tacos is the brainchild of Michael Rypka, who walked away from the business world to follow his passion for green chili, chips, and salsa. Rypka quickly built his business from a food truck in Austin to over 30 locations across Texas, with more on the way.
With a successful business base back home, Torchy's saw an opportunity to grow into a new market in Denver.
Denver was an obvious choice for "so many reasons," says Brittany Platt, Director of Marketing for Torchy's Tacos. "It's not too far from home, so allows us to keep a close eye on the location(s), but it's also very good cultural fit.  We like being a part of thriving communities that think like we do."
"That theory applies to our customers, as well as the people who work for us," continues Platt. "Both places are full of bright, conscious, forward-thinking individuals. We feel at home here."
Damn good.
Their philosophy of consciousness extends to environmental sustainability. This may not be the first thing to come to mind when thinking about quick-service restaurants, but it is certainly near the top of the list of Torchy's priorities. According to their website, Torchy's is committed to quality ingredients, and "If not regionally-sourced, you can bet your brush fire that it's responsibly-sourced."
Apart from the food, the biggest environmental impact of a quick-service restaurant is packaging and paper waste. At Torchy's, all napkins, cups, and cutlery are made from 100 percent renewable resources, and stores have a "take what you need, reuse what you can" philosophy.
"Our locations are equipped with low-flow toilets, tankless water heaters, and erected with 40 percent reclaimed wood," reads the website. Even the oil from the fryers is collected and converted into automobile fuel.
But the truth is in the tacos. Before the official opening, Torchy's on Broadway set up three pop-up preview nights throughout Denver. Ink Lounge Screenprinting, Ratio Beerworks and Our Mutual Friend Brewery shared their space with Torchy's to whet the appetites of hungry taco enthusiasts with free chips and queso.
Honestly? A match made in heaven.
There are a plethora of taco places to choose from, so it's important to set yourself apart from the crowd to keep customers coming back for more. Platt explains that Torchy's flexible and open culture adds a unique flair to the taco scene.
"We don't do things as traditional companies do – we never have," says Platt. "That includes tacos. We don't aim to be traditional fare, or even tex-mex for that matter. We take inspiration from many different cultures, combinations, textures and flavors."
Look no further than February's Taco of the Month for proof of Torchy's playful approach to ingredients. The Scallywag taco features coconut-battered shrimp, bacon, green chilies, jack cheese, and pickled onions—all topped off with a habanero peach jam. "We really believe in our product, whether that's putting a piece of fried chicken in a taco or curating a homemade habanero jam, we like doing things the Torchy's way," says Platt.
Pro Tip: Be sure to ask for the secret menu, which features creations like the Mad Cow and The Hipster.