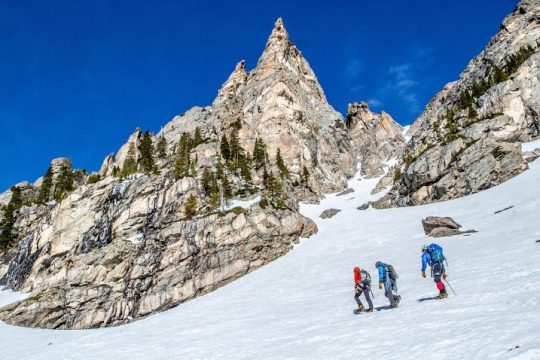 By Veronica Penney
January is here again: a time for resolutions; a time for hot chocolate; a time for dreaming wistfully of adventures to tackle when warmer weather rolls around again.
If summiting some of Colorado's 14,000 foot peaks is on your list, there's some great news—you don't have to wait for "Fourteener Season" to lace up your hiking boots and get cracking.
A few of Colorado's most accessible winter fourteeners—including Grays Peak, Quandary Peak, and Mount Bierstadt—happen to be a short drive from cities along the front range. To learn more about what it takes to safely hike in cooler temperatures, Innovators Peak sat down with the Colorado Mountain School to get some winter hiking advice.
The Colorado Mountain School is a local Colorado mountaineering company that offers courses, certifications, and guided tours for year-round mountain adventures. What really sets the company apart from other guiding companies is the qualified staff.
"A lot of companies say that, everybody says it, but we pride ourselves on it," says Luke Terstriep, Expedition Manager at the Colorado Mountain School. Anyone can call themselves a mountain guide, but CMS requires all of its guides to carry certifications by the American Mountain Guides Association.
On top of that, there are only 100 American guides with the prestigious International Federation of Mountain Guides Association (IFMGA) certification, and CMS has more on staff than any other company in Colorado. "Our guides are not weekend warriors," Terstriep says. "They are career mountain guides, they've been training for a lot of years, and this is what they do everyday."
Image via Veronica Penney. 
Tips
Wear the right shoes
"Usually, snowshoes are a key part of the kit," says Terstriep. Snowshoes are easy to strap on your pack and can mean the difference between an enjoyable hike or a fruitless 90-minute drive out to the trailhead. If you get onto the trail and it looks like you won't need them, you can always stash them in a snowbank to cut your pack weight.
Avalanche awareness
A beacon, shovel, and probe are standard avalanche equipment, but make sure that you learn how to use your equipment and how to spot avalanche hazards before you head out.
Be prepared for changing conditions
A common mistake is underestimating how quickly conditions can change in the winter.
"Conditions change so fast in the winter that you need to be prepared for almost anything," says Terstriep. If clouds roll in, "within a matter of minutes, what was a wet rock is now a sheet of ice. Even on the same outing, it might be just wet on your hike up and when you turn to come down, it's totally frozen solid."
Image via Veronica Penney.
Winter can be "a whole 'nother ball game," cautions Terstriep. "You're into ropes, harnesses, helmets, crampons, that kind of thing. And for someone who wants to get into that, that's not something you really want to learn on the fly."
If you're looking for more of a challenge, an introductory mountaineering course will show you how to use more advanced equipment and stay safe on the mountain, but ultimately, Terstriep recommends picking up the phone if you aren't sure where to start. "Even down to what time of year is the best time of year to climb ice or snow or rock, or what altitude, or what equipment you need, there's a lot to it. So just get on the phone with someone that's knowledgeable so they can point you in the right direction."