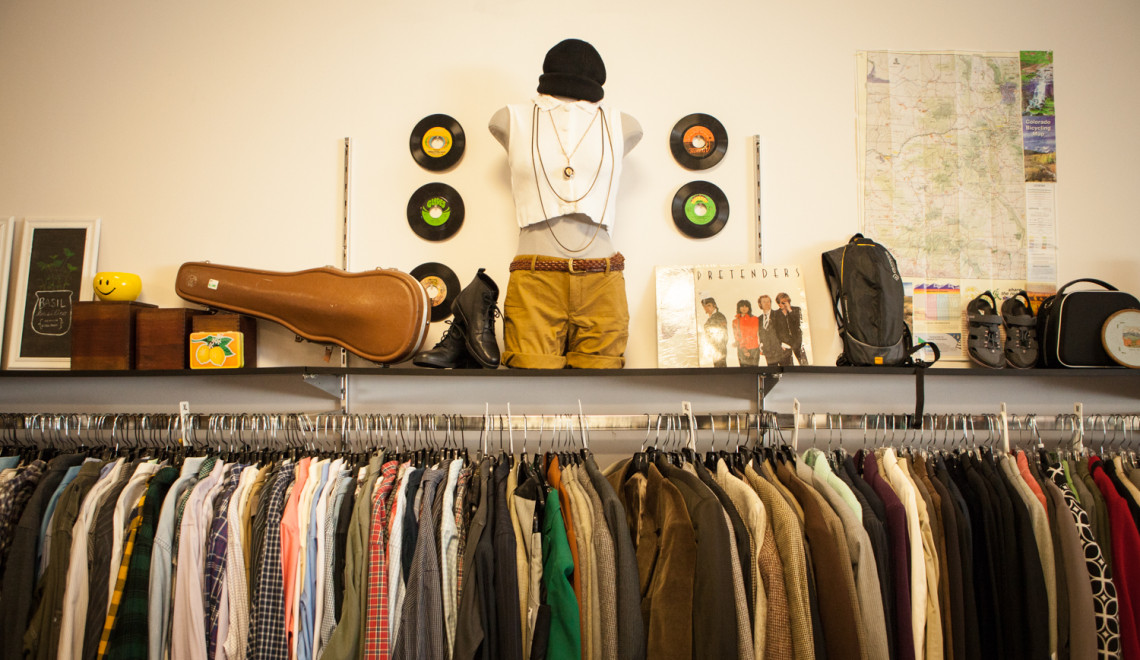 Story and Photos by Kelley Birschbach
Three years ago just about all of us were singing along as Macklemore brought the thrill of thrift shopping — or "popping tags" with only 20 dollars in our pockets — to hip-hop.
But before you go and say you weren't with the rest of us singing "I wear your granddad's clothes / I look in-cre-di-ble", the single reached "diamond" record status. That means it joined the likes of Michael Jackson, U2, and the late Prince as artists who have one diamond record.
So even if you didn't respect the jam, it's popularity points to a clear connection with consumers.
Even before the song's release, thrift shopping was becoming trendy. Millennials in particular were attracted to the environmental benefits and fashion originality available with resale retail, and in cultural hubs like Denver, thrift stores were seeing serious revenues.
Now, every thrift shop has the usual - a dress you can't believe was ever designed let alone purchased, board games from the '80s, and a most random collection of books including at least one piece on polygamy. The ridiculousness is part of the adventure that is thrift shopping.
But there's a new nifty thrifty that just opened in Denver you should know about.
Meet Peak Thrift
Peak Thrift is a social enterprise off-shoot of Urban Peak, the only full-service youth shelter in Denver. It offers multiple programs to help homeless youth find safety and stability.
After just three months, it has already been voted best thrift shop in Denver.
You've probably come across the younger faces asking for change on the 16th Street Mall and according to the 2013 Point-In-Time Survey conducted by the Metro Denver Homeless Initiative, there are nearly 1,000 of these teenagers and young adults experiencing homelessness in Denver. 
We're not just talking about statistical data. These are worthy humans, some as young as 13 years old, with no bed, no security, and no dependable guidance. All of this at a time when these soon-to-be men and women have brains rapidly trying to form a sense of self and necessary skills to thrive in the world.
Since January, Peak Thrift has stepped into the issue to create stability, purpose, and skills through jobs.
The initial program is 160 hours of on-the-job skills training. Once completed, the youth can get help to find employment elsewhere or move into a more permanent role with the thrift shop.
The early results have been exactly what you'd hope for.
"We've had some amazing breakthroughs," says Alexandra Cloyd, Key Associate of Peak Thrift. "We've had some youth come through who wouldn't make eye contact, who weren't interested and didn't trust us at all as adults, as people, as mentors. Now they talk to customers and love coming to work. It's really amazing to see the transformation they go through being in a supportive working environment."
It's a mission doing business. And it's working.
Review From a Veteran Thrifter
We have all probably gone hunting for a Halloween costume on the cheap or for seasonal glory in the office's ugly Christmas sweater contest. But for you real thrifters out there, know this place is a step above the others.
I invited a friend who thrift shops for hidden gems three or four times a month to come with me to Peak Thrift. After scouring the racks and finding a few items – a summer tank and Broncos shirt among others – I asked her what her first thought was walking in the doors.
"It smelled good. When you walk into other stores, there's like this distinct smell. Not really bad, but it makes you feel like you should wash your hands when you're done or something. [Peak Thrift] was a more pleasant experience. Their décor was nice, creative. Welcoming."
She added that the selection was full of quality items with prices that "weren't like uppity thrift stores, either." One such item was a perfectly good Patagonia vest selling for $4.99.
So if this kind of socially conscious consumerism is your style, Peak Thrift is the spot. And if it is new to you, might I suggest the lyrics of the thrift king, Macklemore himself, "Fifty dollars for a t-shirt that's just some…"
Well, it's better if you hear it from him: