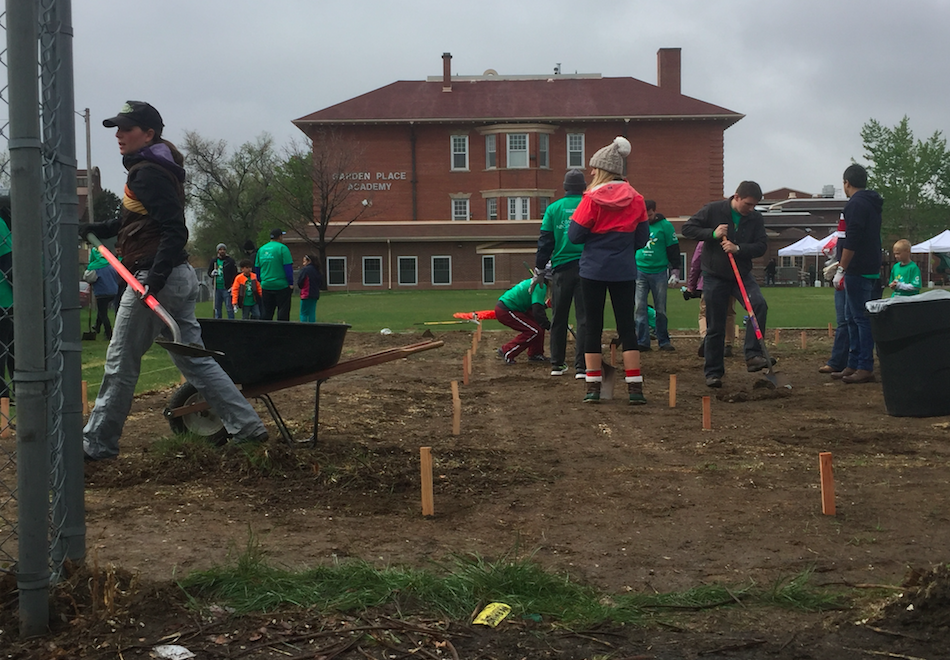 Story and Photography by Veronica Penney
This Earth Day, more than 100 volunteers braved a blustery spring morning to volunteer for Comcast Cares Day at Garden Place Academy elementary school in Denver.
Comcast Cares Day represents the nation's largest single-day corporate volunteer event, uniting Comcast employees and their families with partner organizations around the country to give back to their local communities.
The focal point of the Garden Place Academy effort was a schoolyard redevelopment initiative, and Comcast partnered with organizations including Mile High United Way and the North Denver Cornerstone Collaborative to recruit and coordinate volunteers.
The redevelopment plan for the Garden Place Academy schoolyard started with The Big Sandbox, a nonprofit that aims to build meaningful community spaces in urban areas, with a focus on schoolyards and urban parks. For the Garden Place Academy initiative, The Big Sandbox teamed up with landscape architecture students at the University of Colorado to design the project.
"The goal [today] is to have all 14 raised beds in place with soil, to get our farm tubs in place, have our orchard planted, and fence up," said Lois Brink, Professor of Landscape Architecture at CU Denver and Chief Strategist for The Big Sandbox.
Volunteers achieved all this and more—they spent the day hard at work building gardening beds and installing community sinks and tables. Parents and children alike chipped in to spread mulch, dig holes for trees, and create a compost area.
Efforts on Saturday were also directed toward transforming a cargo container into a toolshed and wind turbine and adding shelving.
"The front half is going to be a tool shed, the back half will be for the wind turbine that comes in and all the energy and remote sensing devices that will go in at a later date," said Brink.
"It will be about 30 feet tall and it will provide all the energy that's needed to run the irrigation system. It will provide charging stations, it will provide lighting," explained Brink. "There will be charging stations and have access to the parking lot so there can be farmers markets and community events here."
Garden Place Academy's schoolyard was first redeveloped in 2000 as part of the Learning Landscapes program, a multi million-dollar design initiative focused on interactive, hands-on learning and play at 96 public elementary schools.
The current half million-dollar project aims to offer even more for students and community members. By the end of 2017, the Learning Garden will include a community nutrition center, complete with educational programs and a community garden. Brink directed her graduate students in the master plans for Denver Public Schools' elementary schools.
The event was funded by Garden Place Academy Advocates and The Big Sandbox, which acts as the fiscal sponsor for Garden Place Academy Advocates.
To learn more about Comcast's Community Investment initiative, head to the Comcast Cares Day webpage.