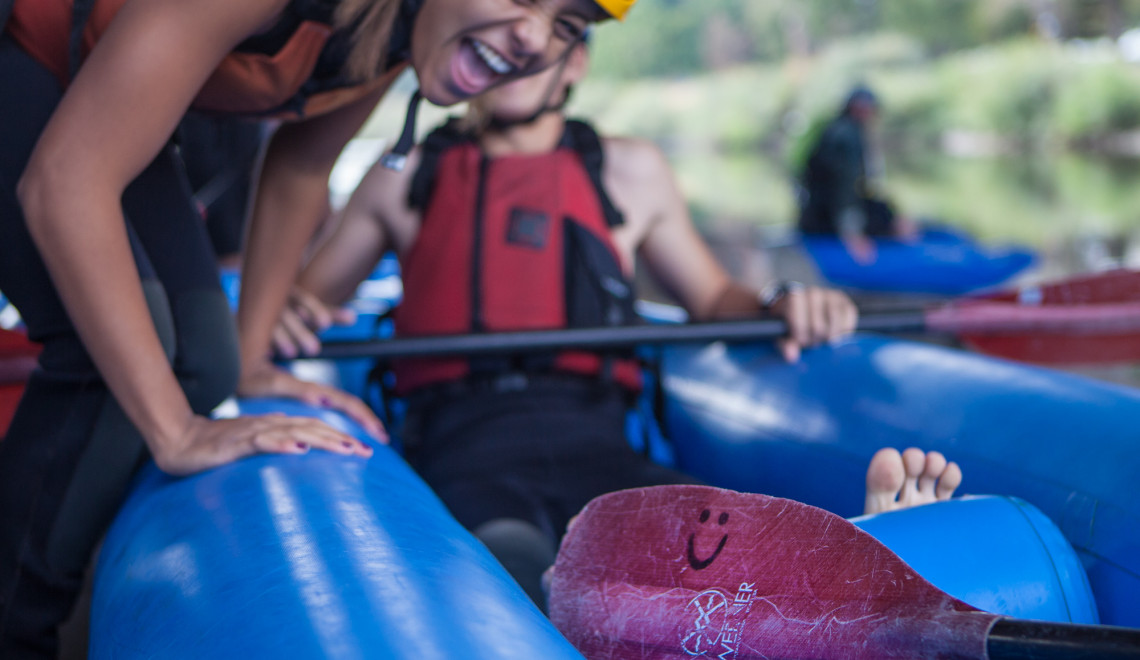 By Kelley Birschbach
Teenagers, right? Either you have your own or you remember exhibiting your own youthful, uh, exuberance.
These days, when they're not snapping selfies, collecting insta-likes, and saying things like "on fleek" and "savage", they're making trouble and driving up all of our car insurance rates.
"Get off my lawn!" Ha, ha, ha. Right? 
But hold on a second. Let's meet a group that might change how we view teens altogether.
Colorado Young Leaders Interrupts the Digitized Selfie-ness
Colorado Young Leaders (CYL), a statewide youth leadership development nonprofit, is breaking into this lazy status-quo and challenging youth to start living "real life" now. CYL partners with other nonprofits to provide opportunity for teenagers to be impactful in a variety of missions – from homeless services to environmental protection to adaptive sports for the disabled.
What they've found – and they're not surprised like we might be – are dozens of schools full of young people who want their lives to matter now, but aren't sure where or how to make that happen.
So let's introduce you to a few that I've met because for so many CYLeaders their involvement isn't simply to improve their college applications.
Let's start with Emma, Brooke, and Rachel. None of them have their driver's license, and yet, a few weeks ago the three led a four-day camping trip for homeless elementary students with Colfax Community Network (CCN). They created the real deal – tents, white water rafting, s'mores – all for kids who barely get off Colfax Avenue, let alone get time to refresh in the mountains.
Though the days are full of fun, this is no vacation for young leaders. Not only are there the normal program management duties, but CCN students have a lot of serious needs that affect their emotional, mental, and physical well-being and can often bring those struggles to the table.
But for CYL Executive Director Darci Barlow, the partnership is about creating opportunity for its young leaders to jump into what they're passionate about.
"CYL is student-led. So it's about giving them the framework where they have the choice to take initiative and create the impact they want."
Now meet Max. Max is a high school student in Colorado Springs who spent two hours every couple weeks for months commuting to Denver CYL leadership trainings. Working with a CYL intern, he actually spearheaded the effort to create a CO Springs chapter so his classmates could have more "direct and effective" opportunities to leave a mark on their community. It's now thriving.
Inspired in part by CYL staff, he also galvanized his school to raise $6,000 for a classmate facing brain cancer.
And how about Mackenzie, a junior who has started putting on writing workshops and raising money for organizations like Urban Peak.
Then there is former CYL Youth Advisory Board President Maddy Gawler who praises Colorado Young Leaders for being "life altering" and has inspired other teens in her TEDx talk.
Oh, and Stevie who after volunteering dozens of days for CCN, wore a sandwich board throughout her school day to collect change to help the after school program on Colorado Gives Day.
Building Capacity for Leaders Today and Tomorrow
I have personally met dozens of these kinds of CYL all-stars and it's rather startling how mature and forward-thinking they are. It causes you to wonder what it could mean for the future.
"The chance for a young person to have a framework of experience and knowledge of how to truly lead, along with a deeper idea of what their passion is, takes them steps ahead of the average teenager whether we're talking about preparing for college or a career," Barlow said.
"These students are [Denver businesses'] future leaders."
And that's something we can all get behind.
Because here's the thing: we need leaders. Whether young or old, it's hard to look at the current state of things and not think it'd be nice to have more individuals guide our companies, cities, and country with thoughtful and focused ambition.
CYL says that's exactly what they're doing and I have to say, I'm drinking the Kool-aid. For any teens reading this, that means CYL is "savage". Stay "woke" to their work.