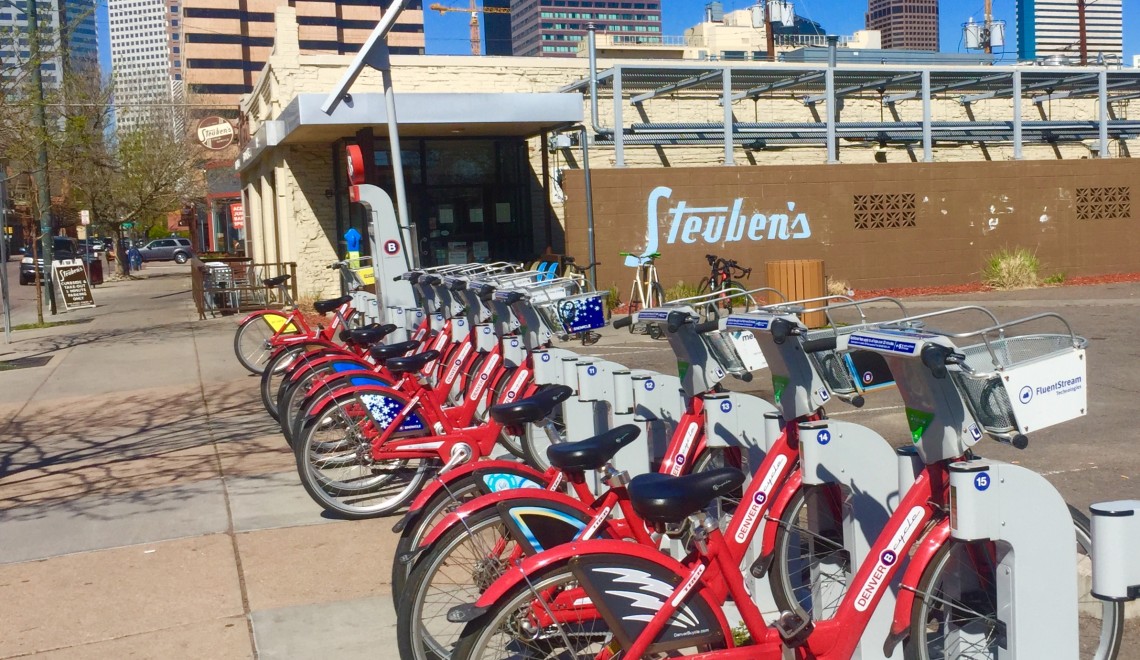 By Veronica Penney
Global warming, plastic islands and endangered species will be a few of the topics of discussion on Earth Day. But what about food?
A growing number of Denver's restaurants are leading the charge toward environmental responsibility by earning certifications through Certifiably Green Denver. This certification ensures that a business has met standards set by the City of Denver in energy efficiency, water conservation, resource management, use of alternative transportation and business management.
If you're planning on going out to eat this Earth Day, celebrate by supporting one of these environmentally-friendly restaurants.
Food packaging can be a bane for quick-service restaurants in the quest for environmental sustainability, but Larkburger has found a solution. Larkburger's french fries containers are biodegradable, utensils are made from potato and corn starch and paper packaging is made from unbleached paper pulp.
The chain's 12 locations are powered entirely by wind energy and restaurant interiors are decorated with reused wood paneling. Even the canola oil used to cook fries is repurposed into bio-diesel.
When you order a plate at Root Down, you may very well be eating something grown in the restaurant's own backyard. Root Down maintains a 4,000-square-foot garden, which provides 20 percent of the seasonal vegetables they offer in their meals.
If an ingredient can't be grown in the garden, chances are good that it is sourced locally and organically. All the meat Root Down uses is certified humane, and all seafood is certified by the Marine Stewardship Council.
Root Down's location itself is also environmentally-conscious:
The building is constructed from upcycled and recycled materials

It's powered entirely by wind energy

The staff uses biodegradable cleaning products

More than 80 percent of waste is composted or recycled instead of thrown away
DiFranco's, a small Italian restaurant in the Beauvallon, has made a big name for itself with its award-winning Italian fare. The restaurant utilizes
local, organic ingredients whenever possible, including dairy, meats, eggs, some produce, bread and wines. Environmentally-friendly features include energy-efficient kitchen equipment and LED lighting across most of the interior of the restaurant. DiFranco's recycles or composts
almost all of their waste
and 20 percent of their electricity is provided by wind power.
DiFranco's is also bike-friendly: Bike racks out front encourage patrons to bike to eat and their delivery system uses bikes instead of cars.
Jax Fish House serves up some of the freshest fish that money can buy in Denver and is deeply committed to seafood sustainability. The restaurant
only
sources seafood from fishmongers who maintain sustainable fisheries and was the
first establishment
in Denver to earn a certification from the
Monterey Bay Seafood Watch
.
WaterCourse is Denver's
original vegan restaurant
, offering a wide selection of vegan comfort foods. By nature of their menu, WaterCourse reduces their environmental impact by sourcing
vegan
ingredients; vegetables and plant-based proteins generate a
much smaller
carbon footprint than meat and dairy products.
The restaurant uses biodegradable food containers for to-go orders, recycles whenever possible and
all
of WaterCourse's fryer oil is converted into bio-diesel.
Stoney's Bar and Grill sourced upcycled materials for the interior of their spacious Golden Triangle location, including 150-year-old barn wood, reclaimed stone and beetle kill pine. Fitting for a sports bar, many of the tables and drink rails at Stoney's are constructed from old high school stadium bleachers. High-efficiency LED bulbs light the interior and the TVs in the restaurant are
Energy Star
rated. Stoney's also reduces waste by using compostable to-go containers, silverware, cups and straws. You'll notice that Stoney's serves beer in cans, not bottles. Stoney's recycles all the cans, and the proceeds are matched dollar-for-dollar by
Miller Coors Brewing Company
before being donated back to local charities.
Backcountry Delicatessen started with a single restaurant in Steamboat Springs and has now added three locations in Denver, as well as a restaurant in Fort Collins. The ingredients are sourced locally so they minimize environmental impact, and Backcountry recycles and reuses containers whenever possible. All of the deli meats come from Saag's, a California-based company also committed to sustainability.
Drip Denver, a family-owned coffee shop in the Beauvallon, remodeled their business several years back to incorporate environmentally-friendly practices. The coffee shop uses low-energy LED lighting, composts all its coffee grounds and uses recyclable coffee cups and sleeves to reduce waste. Drip sources all of its coffee from local roaster Pablos.
Ace and Steuben's are owned by the Secret Sauce family of restaurants and are located side-by-side on 17th Street in Uptown. Both restaurants source wind-powered energy and feature solar panels on their patio awnings. On top of recycling, participating in weekly fryer oil pickups and sourcing sustainable food, Ace and Steuben's are easily accessible by bike, featuring a B-Cycle Depot and ample bike parking out front.
Head to the Certifiably Green Denver website for the full list of Denver's environmentally-friendly restaurants.