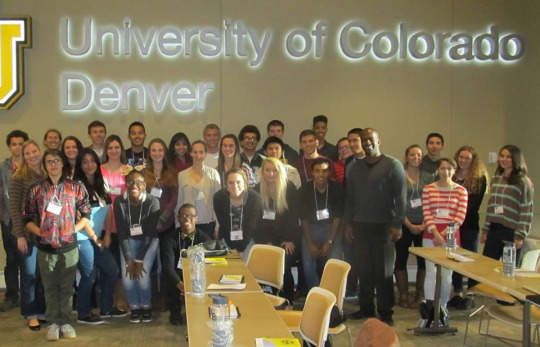 Denver is about to get a lot smarter.

For the very first time, the Colorado Student Leaders Institute (COSLI) will hold a 28-day summer program at the University of Colorado Denver, which will act as a month-long home to 100 college-bound students from all over the state.
COSLI is part of the National Conference of Governor's Schools, a "national organization of summer residential governor's school programs." The programs vary by state, but they all operate with the goal of enriching the educations of high-achieving students through unique social and academic experiences.
Colorado's version of the Governor's School program will require that 50 percent of the 100 selected students be free and reduced lunch (FR) and/or first-generation college kids. Because of a "validating" $40,000 grant from the Daniels Fund, a renowned Colorado foundation, Executive Director Celeste Archer has been able to develop the program so that participating students only have to pay to get themselves to and from Denver — the remaining costs are covered.
COSLI has held a few retreats before, but students who successfully complete the first-time summer program will leave with three hours of real college credit under their belts. Plus, according to Archer, succeeding in a Governor's School program is comparable to receiving a score of 5 on an Advanced Placement test in the eyes of college admissions staff.
We were lucky enough to speak with Archer about all things COSLI. Here's what she had to say.
On the history of the program:

Archer: I had my first meeting on December 5, 2012. A few years ago, my husband transferred to Arkansas. While I was in Arkansas I bumped into this program called Governor's School and I started seeing the kind of difference it was making for kids. I was so overwhelmed by what it was doing that I learned more about it. It's just an institute where the best and brightest high school students in every state coming together once every year, during the summer, and play like they're in college. And when I say "play," there's no play involved – it's very hard work.
When my husband was transferred back home [to Colorado], I said to him, "I'm not going back into the classroom, I'm going to devote myself to making sure that Colorado has one of these programs." So for a year, I went on a listening tour, and I listened to every single person who was an educational leader, a religious leader, a business leader, higher ed leader, a political leader – I listened to probably 150 to 200 people. And I interviewed every single Governor's School in the country.
On the rigors of the program:

The application's uploaded right now; It's about 15 pages long and it replicates a college application. We're looking for kids who can develop into great leaders and who can develop into great students. We're looking for those kids who have the ability to be a part of a team. And this first year, a number of the seats are already taken, because all of the students who have been serving on the Student Advisory Board get an automatic admittance. We have about 35 who will have a seat, so there are only 65 seats [available].
The kids can have two majors. One is STEAM (science, technology, engineering, art and math) and the other major is International Social Studies. The class is designed to bridge both of those majors, because right now there will only be one three-hour class. They'll be in class all morning long Tuesdays, Wednesdays and Thursdays, and then Mondays and Fridays will be workshop days. Mondays they'll divide and go into seminars and workshops that are specific to their majors, and then on Fridays they'll have off-campus experiences.
Colorado Student Leaders Institute Q&A from Austin Chavez and Sara Taketatsu.
On how Colorado's program stands out among other states:

One of the things we're doing that no other [state] does is that we have a requirement that all of the kids have to break into teams of 10, they have to develop a business plan, and they have to carry out that business plan within those 28 days to show a profit. And it can be something as funny as having a bake sale on the sidewalk in Downtown Denver. It can be whatever they want to do, but they have to create a business plan so they can go through the experience of being an entrepreneur, having to think like an entrepreneur.
Another thing they do [during the program] is break into teams of 10 based on 10 of the biggest problems that they see in Colorado, and they'll brainstorm that with a facilitator on the very first day they get here. The kids will, in teams of 10, work on those issues, create workable ideas and solutions for those problems that they then have to present to the state legislature. That's what's missing from a lot of other states: true, tangible outcomes. Good education is important, but it's not always measurable until many years later. And this way, we'll be able to measure it and prove it within 28 days.
Most states have their Governor's Schools in the summer before the kids' senior year, and one of the things I heard very clearly on that listening tour was that in Colorado, one of our big goals is to make our kids college and career ready. Well, if you do it the summer before their senior year, that's too late. We did it so they're rising sophomores and rising juniors.

On the program's desired outcome:

One of our goals is to engage our students in such a way that they are encouraged to stay in Colorado for college and for careers. We really want to engage our best and brightest, because they think that they have to go somewhere else to solve problems or find engaging issues, and there are just as many here.
Our goal is to create this network of kids who never lose touch with one another and who are creating tangible, real products within those 28 days that make the legislature say, "We invested our money well. That was a good idea."
On what's next going forward:

We work so hard that we got the attention of the national conference already, so starting next year, Colorado will have a seat on their executive board, their planning board. And then we'll be hosting in 2018 the National Conference of Governor's Schools in Denver. Actually, we're partnering with Wyoming. We'll do half of it here and half of it in Wyoming. And I do have a ten-year goal to grow [the program] to 400 [students].
Archer ends our chat by mentioning a student she knows as an example. As a high school senior, he's now a student body president with a one-act show in Denver's theater district and many options for four-year colleges.
"His life is transformed," says Archer. "I'm not saying it's through this, I'm saying it's through the hard work he put into this and the contacts he made through it. And that's our goal."