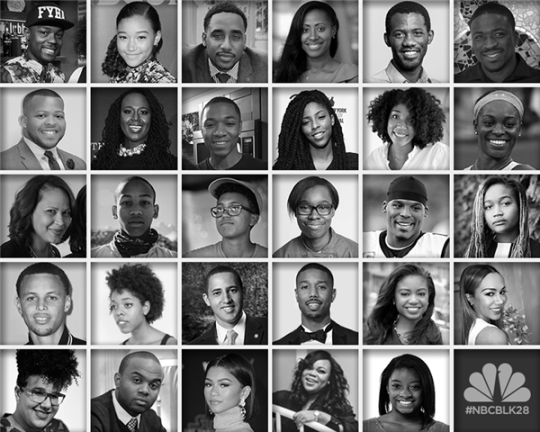 It's February, which means it's Black History Month.
Yeah, the Twitter hashtag emoji and the Snapchat filter are fun ways to observe the month-long occasion, but it's important to celebrate the many ways Black Americans are changing the world too.
In honor of the occasion, NBC announced their inaugural #NBCBLK28, a group of 28 Black influencers and innovators all under the age of 28. (Because February has 28 days. Except for this year, when it has 29. But don't worry, they included a 29th honoree.)
We pretty much want to learn from and hang out with everyone on the list, but we've highlighted a few leaders whose work particularly aligns with our innovation and entrepreneurship obsession.
Say hello to the newest additions to your list of folks to whom you should be paying attention, in areas ranging all the way from food to design.
ACTIVISM
William Calloway, age 26, is a Chicago activist whose efforts, along with journalist Brandon Smith, led to the release of video footage of a Chicago Police officer fatally shooting 17-year-old Laquan McDonald. That kind of release of video footage usually doesn't come easily, which is why we're sure Calloway will continue to be an important part of racial justice activism in both Chicago and the entire nation.
INCLUSIVE CLOTHING
Twenty one year-old Vanessa Newman, along with her Columbia College Chicago-based business partner Michelle Janayea, is a co-founder of Butchbaby & Co., a company designing and providing maternity clothing for genderqueer parents-to-be. Butchbaby clothing is an inclusive alternative to most hyper-feminine maternity clothing sold in mainstream markets.
TECH DESIGN
Twenty two year-old Madison Maxey is a coder and prototype builder interested in the relationship between design and technology. She's a co-founder of The Crated, a company focused on exploring the future of wearable technology, and – no big deal – she designed an electronic LED matrix dress for Zac Posen and Google.
POLICY
Dr. Marvin Carr is a 28-year-old with a Ph.D. in Electrical and Electronics Engineering who also happens to be a Policy Advisor to the Chief Technology Officer of the United States. So basically, he helps call the shots in the White House when it comes to technological research and education. Part of his duties include grounding presidential STEM-related policy initiatives in diversity and inclusion, especially for disadvantaged youth.
ENVIRONMENT
Will Tarpeh has an innovative idea that we've certainly never reported on before. Tarpeh, 25, is an environmental engineering Ph.D. student at UC Berkeley, where his research focuses on ways to utilize science to address real-world environmental issues. One of those issues is sanitation, which is why he recently found a way to extract nitrogen from urine to make nutrient-rich fertilizer.
DIGITAL MEDIA
Rhonesha Byng is the 26-year-old founder of HerAgenda.com, a "digital hub of information and inspiration dedicated to ambitious millennial women" loaded with articles, interviews, and networking resources. She's been acknowledged by the Associated Press and the New York Association of Black Journalists, and she even won an Emmy for production work with NBC New York. Her life motto is N.E.S.H.A.: No one Ever Slows Her Agenda. Damn right.
CULINARY ARTS
No big deal or anything, but 26 year-old Roshara Sanders won Food Network's chef competition Chopped: Military Vets in November 2015. She's a six-year Army combat veteran who has served tours in Iraq and Afghanistan, but these days, she's a sous chef at Guckenheimer in Norwalk, CT. Sanders also dedicates much of her time to programs that teach children to cook and eliminate youth hunger around the state.
Make sure you check out the rest of the #NBCBLK28 here, including some more famous faces like Stephen Curry, Jessica Williams, and Michael B. Jordan.